Marlene
Williams - - Mba Cips Rsps
MARLENE WILLIAMS REALTY LIMITED
Unit 6a,2 Seymour Ave, Kgn 6
2 Seymour Avenue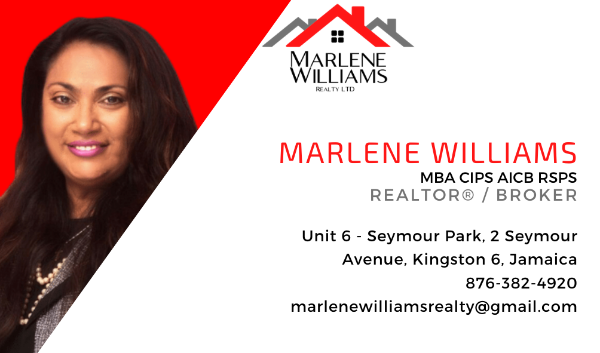 let's find your new home
Search for Real Estate in and around Jamaica
Residential
Any
Single Family
Half Duplex
Townhouse
Condo/Apartment
Full Duplex
Triplex
Fourplex
Mobile
Modular
Lots/Acreage
Farm
Recreational
Commercial
Any
Building Only
Building & Land
Business & Leasehold
Business & Property
Business Only
Land Only
Multi-Family
Industrial
Min Price
Any Price
JMD 1,000,000
JMD 2,000,000
JMD 3,000,000
JMD 4,000,000
JMD 5,000,000
JMD 6,000,000
JMD 7,000,000
JMD 8,000,000
JMD 9,000,000
JMD 10,000,000
JMD 15,000,000
JMD 20,000,000
JMD 25,000,000
JMD 30,000,000
JMD 35,000,000
JMD 40,000,000
JMD 45,000,000
JMD 50,000,000
JMD 60,000,000
JMD 70,000,000
JMD 80,000,000
JMD 90,000,000
JMD 100,000,000
Max Price
Any Price
JMD 1,000,000
JMD 2,000,000
JMD 3,000,000
JMD 4,000,000
JMD 5,000,000
JMD 6,000,000
JMD 7,000,000
JMD 8,000,000
JMD 9,000,000
JMD 10,000,000
JMD 15,000,000
JMD 20,000,000
JMD 25,000,000
JMD 30,000,000
JMD 35,000,000
JMD 40,000,000
JMD 45,000,000
JMD 50,000,000
JMD 60,000,000
JMD 70,000,000
JMD 80,000,000
JMD 90,000,000
JMD 100,000,000
Min
Any
200 Sqft
300 Sqft
400 Sqft
500 Sqft
600 Sqft
700 Sqft
800 Sqft
900 Sqft
1,000 Sqft
1,100 Sqft
1,200 Sqft
1,300 Sqft
1,400 Sqft
1,500 Sqft
1,600 Sqft
1,700 Sqft
1,800 Sqft
1,900 Sqft
2,000 Sqft
2,500 Sqft
3,000 Sqft
3,500 Sqft
4,000 Sqft
4,500 Sqft
5,000 Sqft
6,000 Sqft
Max
200 Sqft
300 Sqft
400 Sqft
500 Sqft
600 Sqft
700 Sqft
800 Sqft
900 Sqft
1,000 Sqft
1,100 Sqft
1,200 Sqft
1,300 Sqft
1,400 Sqft
1,500 Sqft
1,600 Sqft
1,700 Sqft
1,800 Sqft
1,900 Sqft
2,000 Sqft
2,500 Sqft
3,000 Sqft
3,500 Sqft
4,000 Sqft
4,500 Sqft
5,000 Sqft
6,000 Sqft
Consulting a REALTOR®
REALTORS® are members of The Realtors Association of Jamaica who subscribe to a Code of Ethics and Standards of Business Practice. Members of the Real Estate Board of Jamaica
The following is a list of services you can expect to receive from a REALTOR® when you buy a home:
A REALTOR® will fully explain the details of your working relationship (called "agency") so that you are clear as to when a REALTOR® is working for you or for the seller.
A REALTOR® has access to hundreds of current listings of homes for sale because of a co- operative system called the Multiple Listing Service® (MLS®).
A REALTOR® can provide you with a customized list of homes that best meet your needs -- size, style, features, location, proximity to schools, shopping, etc. - and then make arrangements for you to view those homes that appeal to you the most.
A REALTOR® will help you determine how big a home you can afford.
REALTORs® are familiar with the local lending market and can offer helpful advice.
A REALTOR® has no emotional ties to any type or style of home and can be objective in pointing out the merits of one home over another.
A REALTOR® will have information on zoning changes, taxes, utility costs and school and recreation services that could affect your decision to buy a home in a specific area.
A REALTOR® will assist you in negotiating the terms of your purchase, which can be a nerve- wracking process for someone who is not experienced in negotiating.
A REALTOR® will advise you of the legal process required in obtaining title and taking possession of your property; the costs associated with buying a home such as insurance, mortgage registration and legal fees will be explained in detail.
Please see below estimated cost associated with purchasing a property in Jamaica
Purchasers Cost

Stamp Duty (1/2)

$2,500**

Cost of Agreement for Sale
*0.20%
G.C.T on Charge for Agreement of Sale
0.033%
Registration Fee
0.25%
Surveyors Fee (See Below)
G.C.T on Charge for Surveyors Fee
Attorney's Fee
*3.00%
G.C.T on Attorney's Fee
*0.49%
Letter of Possession

$7,500***

Approximate Sub - Total Cost

*3.98%

If purchaser requires a mortgage

*6.00%


______

Approximate Total Cost

*9.97%


______

** Stamp duty total is $5,000.00 which is split between vendor and purchaser.
* Asterisk indicates that this percentage is variable
* Surveyor's Fees may be in the region of J$45,000.00 *** Letter of Possession is split between vendor and purchaser
TIME FRAME FOR REAL ESTATE TRANSACTIONS
(A) CASH SALES
On deposit of 10% - 20% of the selling price, and upon signing of the sales agreement, the transaction commences
Stamp Office - approximately 3 weeks for stamping documents
If sales agreement indicates balance is payable on signing Registrable Transfer (as opposed to balance being payable on the transfer of title), then COMPLETION MAY BE ACHIEVED WITHIN 30 DAYS
This situation, however, is highly unlikely and hardly ever occurs. A more reasonable time expectation is 90 days.
To accomplish a shorter time frame, however, factors to consider:-
That all funds are in hand and available
- where are funds?
- ensure funds not tied up on deposit.
That vendor and purchaser are on the island
- if either is overseas, the requirement to send documents abroad adds considerably more time
That premises are vacant
- if tenanted, tenants require notice
- if monthly tenants, 30 days notice from the due date is required and should be served prior to the due date
Purchaser's attorney to carry out title search before signing of the sale agreement and paying the deposit
If the stamp office wants to value the property this can cause a delay
(B) SALES CONDITIONAL UPON MORTGAGE
Realistically - consider 5 - 6 months
First, confirm qualifications for a mortgage - can you qualify by yourself or by combining with another party/parties? Acquire a list of all information and documents, which shall be required by the mortgage company.
Ascertain the date of their meetings for approving applications. If you miss the date, their following meeting may not be held for a further 4 - 6 weeks.
It can sometimes take 45 days to receive a letter of commitment.
All funds must be accounted for before your attorney can provide his letter of undertaking to vendor's attorney.
This transaction may involve as many as four attorneys, one for the purchaser, one for the vendor, one for your mortgage company, one for the company with the current mortgage to be discharged. Documents have to travel back and forth extensively.
If stamp office wants to value the property this can cause further delay!
THUS ALTHOUGH COMPLETION MAY BE HOPED FOR IN 3 - 4 MONTHS, IT IS MORE USUAL THAT THE PROCESS TAKES 5 - 6 MONTHS.
---
PROCESSES IN THE SALE OF A PROPERTY
1. Taking instructions from the Vendor.
2. Taking details from the Purchasers.
3. Obtaining a copy of the Certificate of Title.
4. Doing a caveat search.
5. Preparing the Agreement for Sale and submitting same to the Purchasers Attorney and in some instances, the Vendor, before submitting same to the Purchasers Attorney.
6. Settling differences before the finalization of the Agreement.
7. Finalization of the Agreement and providing copies to the parties of the Agreement.
8. Sending the Agreement to the Stamp Office and obtaining a tax certificate and up to date water rates receipt.
9. Checking with the mortgage company to obtain a mortgage commitment.
10. Writing to the company holding the security to obtain the Certificate of Title and Discharge of Mortgage.
11. Preparation of statements of account for the Vendor and Purchaser.
12. Preparation of the transfer.
13. Cross-stamping the transfer.
14. Obtaining a letter of undertaking from the firm responsible for registering the mortgage.
15. Sending documents to the Mortgagors Attorney.
16. Preparing, stamping and registering the mortgage with the transfer.
17. Submitting documents to the Titles Office.
18. Collecting the relevant Certificate of Title.
19. Submitting the same for payment.
20. Preparation of final accounts.
21. Paying off the mortgage, utilities if any and balance of sale price the Vendors Attorney.
Selling Your Home - Why it Pays to Use a REALTOR®
Before selling your home, you will need a clear understanding of the legal issues and potential pitfalls. One wrong action could result in a lot of cost and frustration, which is why it is essential to have a REALTOR® working with you, as he or she will make the sale of your home a successful and satisfying experience.
Greater exposure
REALTORS® use the Multiple Listing Service® (MLS®) to give your home maximum exposure. MLS® is a computer-based system that relays valuable information about your home to hundreds of REALTORS® and potential homebuyers.
Setting a price
Setting a price for your home is an important but difficult process. Again, this is where the services of a REALTOR® prove invaluable. REALTORS® have the experience to help you understand how the market works and decide upon a realistic price that meets your goals. REALTORS® also pre-screen potential buyers to make sure only those who are serious and financially qualified view your home.
REALTORS® will also develop a marketing plan to help your property receive maximum exposure. This will likely include placing your home on the MLS® system and placing a "For Sale" sign on the front lawn. The plan will likely also include arranging open houses for other REALTORS® and potential buyers, and developing advertisements and feature sheets/mailers to market your home.
Once you have accepted an offer to buy your home, your REALTOR® will help ensure that all the proper paperwork is completed. He or she will also make sure that both parties meet the necessary conditions outlined in the agreement.
Why working with a REALTOR® makes sense
When you work with a REALTOR® you will likely get a better price for your home than if you try to sell it yourself. Apart from the financial benefits, however, there is an extra measure of comfort and security that comes from having a REALTOR® on your side. Remember that REALTORS® are governed by a code of ethics and standards of business practice. They have also been trained and licensed under the provincial Real Estate Services Act to assist in transactions involving real property. When it comes to buying or selling property, using a REALTOR® just makes sense.
Please see the below estimated processing fees in Jamaica
Vendors Costs (Approximately)

Transfer Tax (Full)
2.00%
Stamp Duty (1/2)

$2,500**

Registration (1/2)
0.25%
Cost of Agreement for Sale (1/2)
*0.20%
G.C.T on Agreement for Sale
*0.033%
Commission
5.00%
G.C.T on Commission
0.83%
_______
Attorney's Fee
*3.00%
G.C.T Attorney's Fees
*0.49%
Letter of Possession

$7,500***

Approximate Total Cost

11.80%


______
I have always enjoyed finding a solution and my career as a Realtor, compliments my desire to finding the best solution for my clients.
After years of handling medium to large corporate accounts in the Banking sector, I bring my expertise in finance and relationship management into the Real Estate world.
I have had my Real Estate license over 20 years and am the Broker for Marlene Williams Realty Limited where I am licensed for sales, rental, property management and auctioneering of real estate.
My background has fostered a level of professionalism, reliability and integrity that ensures smooth and amicable dealings. I am a Certified International Property Specialist (CIPS) and a Resort and Second-Home Property Specialist (RSPS).
!Home.view_full_search_screen!